L.P. Zimmermann, Visual Artist, 1949-2010
A post-humus collection of abstract works by:
L.P. ZIMMERMANN
Main Gallery at STARVING ART STUDIOS
2324 E. Cesar Chavez August 6 – 29, 2010
Gallery Hours: 11am – 4pm, Saturday & Sunday
Memorial Celebration: Friday, August 6, 2010 4 – 7 pm
Gallery Opening: 7– 10pm, Friday, August 6, 2010
Activities, food, entertainment: Noon – 10pm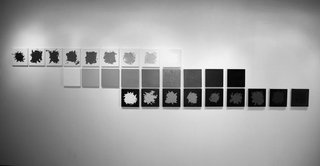 My field of study is the visual art's from post-WWll to the mid-70's. My practice reflects this interest. I work in two opposite languages. That would be Minimalism and Abstraction.
I use various mediums and materials in creating my work. Canvas, stretched and unstretched, wood, photo's, house paint and wall joint compound, ink, crayons and more. The scale of these works runs the gamut from 10″ x 10″ to 4′ x 6′ canvases.